—
Virtual Presentations available for Member's Review
Member's Page email Info@CapeCodGenealogy.org for the New 2022 Password
---
---
All meetings are 7 PM Eastern Time.
24 September 2022: 1950s Census Party
CCGS is concluding the year-long observance of its 50th Anniversary with a 1950 census party.
Where: Dennis Public Library, Dennis Port
Time: 10 AM – 2 PM
You are invited to examine and research the 1950 census. Find your parents, grandparents, and extended family. Perhaps this is the first census YOU are in! Bring your family to share in the fun of discovery – kids are welcome. And refreshments (including a birthday cake) will be served.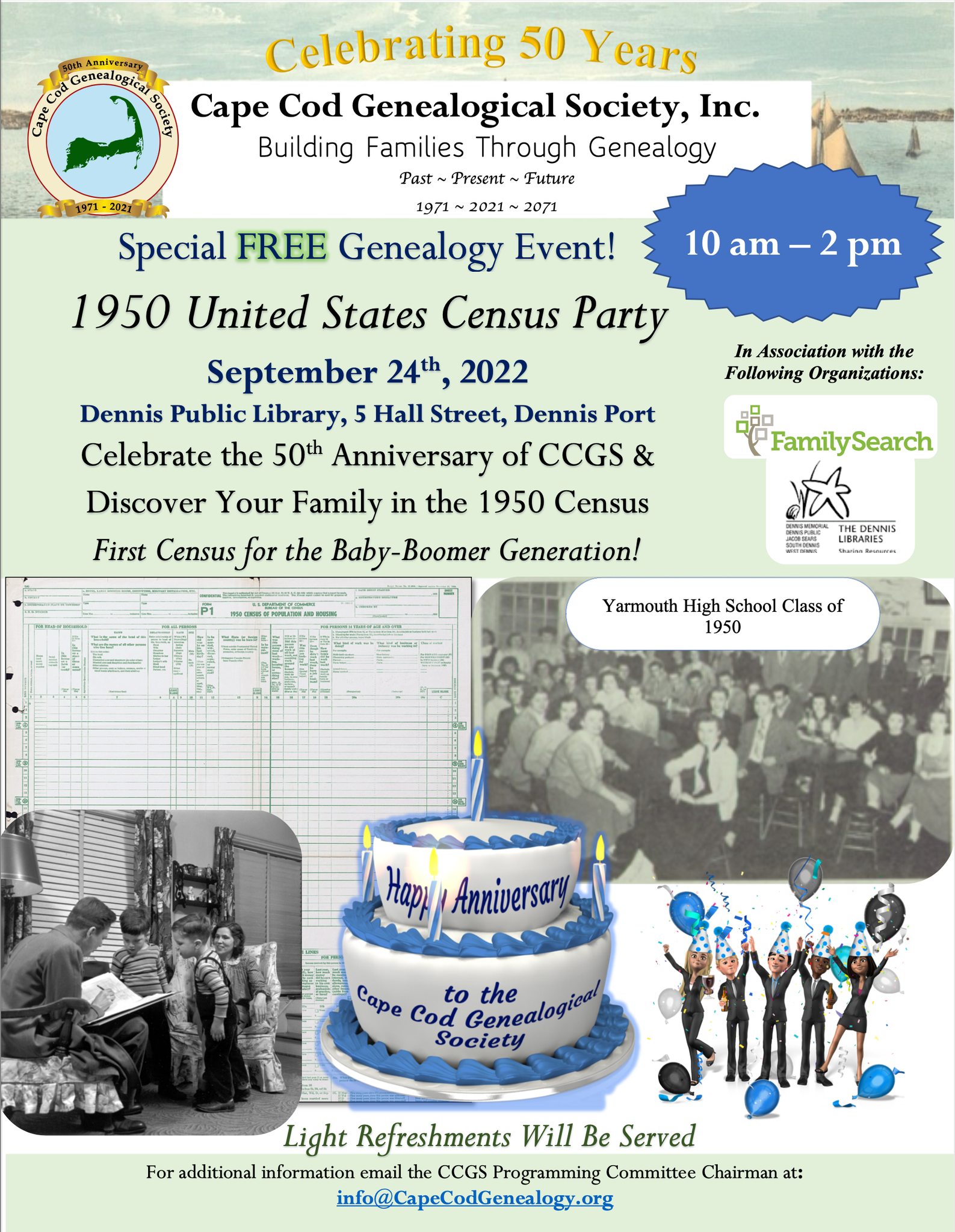 18 October: Kathy Kaldis – In Peace Time and War: The United States Merchant Marine – We Deliver the Goods
15 November 2022: Joint Meeting with the Falmouth Genealogical Society
20 December 2022: CCGS Member Share Meeting
Please register for all events. Members will receive an email with instructions on how to register as we get closer to the event. Non-members are asked to email us at info@capecodgenealogy.org to receive a registration link. 
20 September 2022: Julie Roberts Szczepankiewicz – Finding Vital Records from Poland Online
16 August 2022: Michael Leclerc – Using Microsoft Word for Genealogy – When it comes to writing for genealogy, nothing compares to the power of Microsoft Word. The power and functionality of Word is unmatched in any other word processing program I have tried. Here are some tools and functions of Word that will help you with your writing. Members link to archived webinar-  Member page
Jul 2022 – IDPF: DYING TO BE VIEWED – Military Death Files by Lori Berdak Miller
Jun 2022- NARA MYTHBUSTERS- Your Family IS in the National Archives by Judy Russell
May 2022-Daily Life in the U.S. Lifesaving Service Along the Coast of New England in the 19th Century
by Dennis Picard
Apr 2022- Alien Registration Files by Carol Kostakos Petranek
Mar 2022- Using LearnForeverLearn to Examine your Family Tree for Endogamy and Pedigree Collapse
by L. Ray Sears, III
Feb 2022 – Finding Elusive Individuals in the Census by Jenna Smith
Jan 2022- Researching History of Your Cape Cod House
Dec 2021- Members Share Annual Meeting
Jul 2021 – Recreating Neighborhoods  by Ari Wilkins

We are now accepting donations for the 50th Anniversary events via PayPal (VISA, M/C, Discover, PayPal) (Just click the Donate button to the right for details)
We're Celebrating 50 Years! 
The countdown has begun!
August 25, 1971, Cape Cod Genealogical Society was founded by a small, but dedicated group of genealogists in Harwich, MA. The Society grew steadily, attracting members from all corners of the United States, and in recent years, from Canada. On August 25, 2021, we will begin a year long celebration of the history of our Society, and we are inviting everyone to participate with us. 
Keep an eye on this page to learn what we have planned.