Welcome to the Cape Cod Genealogical Society
The Plymouth 400 Story
Influences on the Native Perspective
As we enter the year 2020, we begin the commemoration of the 400th anniversary of the Mayflower voyage and founding of the Plymouth colony. Our January presentation will focus on the perspective of the Native Americans who had occupied the land for centuries before the arrival of the Mayflower. Beginning with encounters between Native Americans and the Europeans during the period 1602 – 1619, our speaker will discuss how actions and behaviors might have influenced the Native American perception of the arrival of ships they were seeing with increasing frequency. He will then consider the development of relations between the Wampanoags and the Plymouth Pilgrims in the early years of the colony, with a particular focus on events that occurred on Cape Cod.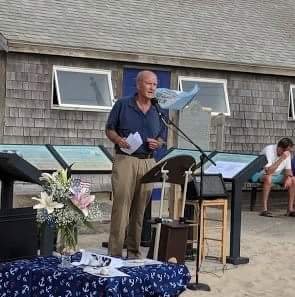 Ron Peterson has been a year-round resident of Orleans since 2012, when he and his wife, Val, retired to Cape Cod, relocating from Connecticut. After a long career in corporate compliance and global security, Ron has been able to immerse himself in his intense interest in local history. He is the chair of the Orleans Historical Commission and has served on the Commission for more than six years. He has also been a member and officer of a number of town committees in Orleans, and the Orleans Historical Society. Currently, he is working with the Cape Cod 2020 Symposium, scheduled in May, which will recognize the Cape Cod role in the Plymouth 400 Commemoration. He also writes a monthly column in the Cape Codder newspaper on local historical topics.                                                    
Our meeting is scheduled for Tuesday, January 21, 2020, at the  Brewster Ladies Library, Rte 6A, Brewster, MA, in the auditorium, which can be accessed from the side entrance of the building. The meeting is scheduled to begin at 10 AM; but you are invited to come early, at 9:30, for coffee, donuts, and socializing. 
In consideration of the library's regular patrons, we ask that you park in the adjoining parking lot, behind the Baptist Church, next door to the library, unless you are disabled and need to park close to the building. 
The CCGS Genealogy Room is open at the Dennis Public Library every Tuesday, Thursday and Saturday.  Come visit us to take advantage of:
Assistance from our dedicated volunteers

Access to Ancestry.com, FindMyPast, American Ancestors, and Family Search

Access to our extensive publications collection

Advice about researching your Mayflower lines
5 Hall St, Dennis Port, MA 02639
Our hours are:
We are a Family Search Affiliate Library!
As a FamilySearch affiliate library, researchers will have onsite access to more than two billion digitized records, including 400 million images that are not currently available to the public outside an affiliate library or a FamilySearch family history center.
Genealogy Education Courses:
Winter 2020
at  Jonathan Bourne Public Library: Thursdays,  1:30 - 3:30 p.m.
January 9: General Introduction to Genealogical Methods
January 16: DNA for Genealogy
at  Centerville Public Library:  Fridays, 1 - 3 p.m.
January 10: General Introduction to Genealogical Methods
January 24: Immigration and Migration
February 14: Using the Census
February 21: Land and Probate Records
February 28: DNA for Genealogy
at   Dennis Public Library : Thursdays, 5:30 - 7:30 p.m.
 January 23: General Introduction to Genealogical Methods
 February 27: Immigration and Migration
 March 26:  Using the Census
Special Interest Groups:
Share Your Passion with others!
Our Special Interest Groups (SIGs) provide members the opportunity to gather with others with similar interests in genealogy! Click here to find out more.